Flight Termination Systems
370-450MHz Amplifier Model Numbers Shown:

1kW System: SYS1021

2kW System: SYS1032

5kW System: SYS1053

Uses efficient & dependable LDMOS devices
Incorporates embedded, fast reacting software
Features N+1 redundant power supplies
Ethernet Communications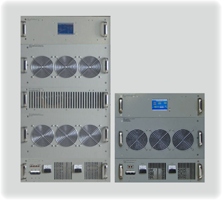 Click Image to Enlarge
WV Communications is proud to announce the SYS1021-XXX series of 1kW UHF High Power Amplifiers Systems. One of our many amplifiers designed for Flight Termination Systems .
The Amplifier HPA Drawers are configured as Phase & Amplitude matched building blocks that can be combined, along with other components, to create a modular Amplifier Systems that delivers 10kW CW or more.
The HPA Drawers incorporate a CPU card in each Driver and Amplifier module plus a CPU card dedicated to monitoring each 1kW Amplifier Drawer. The CPU card monitors module and drawer parameters and provides serial communication between the modules and the system Controller.
This capability allows the user with one Ethernet or serial Interface query command via the , to monitor the following:
RF Forward Power
RF Reflected Power
RF Input Power
RF Output Power of each Final Amplifier Module
Temperature of each Amplifier Module
RF Output Power of each Driver Module
Power Supply Current of Each RF Power Transistor
System Gain Setting
Power Supply Output Voltage
Power Supply Output Current
SYS102X 1kW Amplifier systems are supplied with integral SPDT High Power RF Output Switch
SYS1032 2kW Amplifier systems are supplied with integral SP3T High Power RF Output Switch
All UDP queries return a timestamp.
With another command the user can query the Power Supply current, detected output power, and temperature of an individual module.
The fault history log (last fifty faults) is also available. The fault along with the timestamp can be remotely queried or viewed on the LCD screen.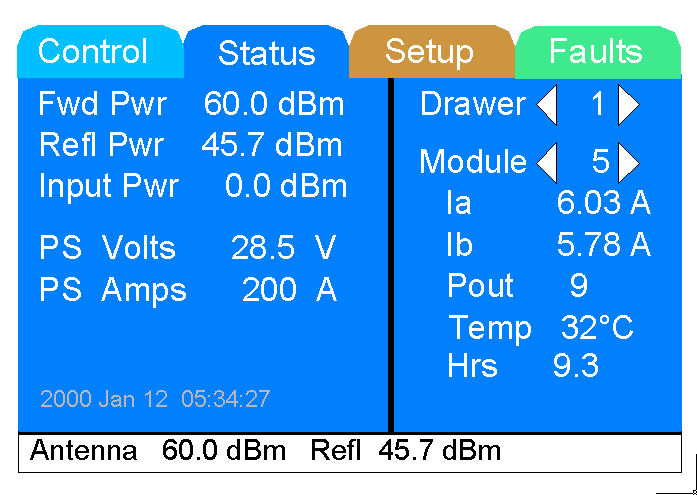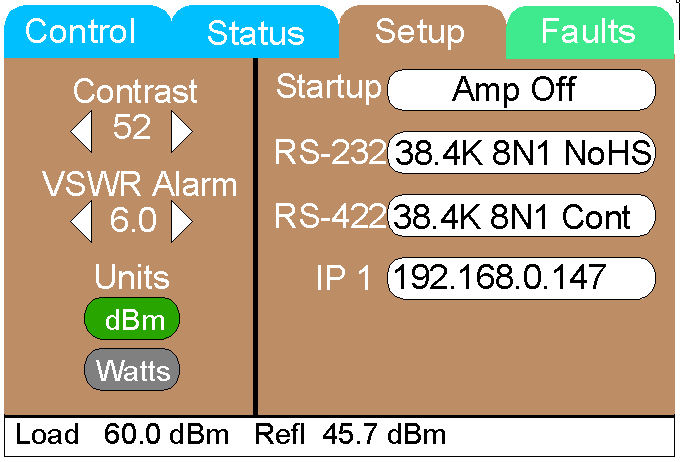 Sample screens shown above; the actual screen may vary based on the selected model and options.
Other configurations are available. The system can be tailored to fit your specific requirements. Please contact us to discuss your current and future needs.
Specification Sheet Downloads