Amplifiers
Model Numbers Shown:

SYS1018, SYS1031, PA1069
Dependable; efficient
Reports status on each individual LDMOS Transistor
Quite; air cooled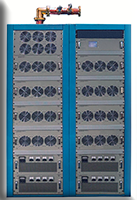 Click here to enlarge
370-450MHz 10kW AMPLIFIER SYSTEM
WV Communications is proud to announce the 370-450MHz 10kW Amplifier system Model SYS1018.
The Amplifier System offers state of the art design of RF circuitry, digital status, and control. WV has been a leader in the industry offering Class AB LDMOS Linear Air cooled Amplifier systems with better than 50% efficiency measured at AC input to RF output Power!
Four (4) power supply drawers, eight (8) High Power Amplifier (HPA) drawers, one controller drawer, and one High Power Combiner assembly make up this powerful efficient system.
Each driver and amplifier module incorporates a CPU card monitoring the detected RF output Power for the module, the two LDMOS power transistor drain currents, and the module temperature. Additionally each amplifier drawer has a dedicated CPU module reporting Forward and Reflected RF Output Power.
Each power supply drawer contains two (2) banks (channels) of power supplies (three (3) in each channel for a total of six (6) per drawer). The power supplies are configured to provide N+1 redundancy for each HPA Drawer. The power supplies also employ a CPU module reporting the output Voltage and Current for both channels and the Health Status of each Power Supply Module.
All of the data reported by the CPU modules is collected by the Main Controller CPU via RS-485 serial communications bus. All of this information:
System forward and reflected power
8 power amplifier drawers' forward and reflected power
Input Power
Output power for each power amplifier module (64)
Output power for each driver (8)
Transistor drain current for every power device in the system (128 in PAs and 16 in drivers)
Power Supply drawer output voltages and currents & Fault information
Temperature for all Power Amplifiers & drivers Modules, and amplifier drawers
All Data is returned by a single command in binary format (666 bytes) via Ethernet.
The SYS1018 Amplifier system offers state of the art Ethernet Communications for both Control and Status reporting enabling the user to get detailed information of all components status.
A fault history of the last fifty faults is also available. The fault along with the timestamp can be remotely queried or viewed on the LCD screen.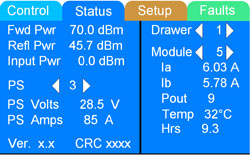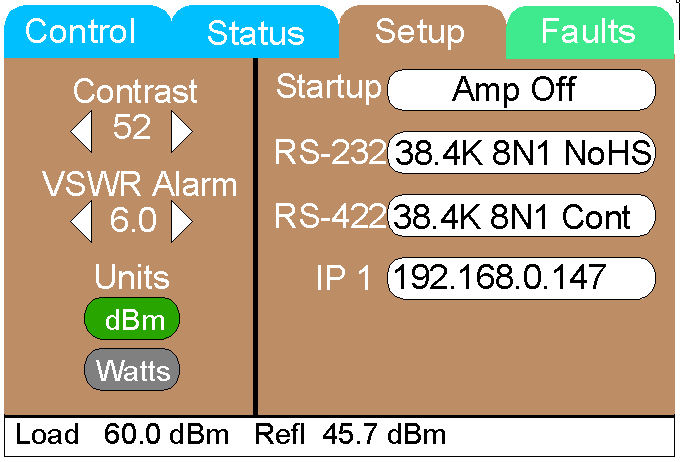 Sample screens shown above; the actual screen may vary based on the selected model and options.
Other configurations are available.
The system can be tailored to fit your specific requirements. Please contact us to discuss your current and future needs.
Specification Sheet Downloads